Monthly Archives: October 2018
On the eve of Budget 2019, a network of 28 national organisations in the community and voluntary sector is reminding the Government that the Budget must move Ireland towards achieving its national and international commitments to ending poverty, reducing inequality and creating a more sustainable future for everyone. These commitments are made under the UN Sustainable Development Goals, the European Pillar of Social Rights and a range of national strategies including the National Action Plan for Social Inclusion.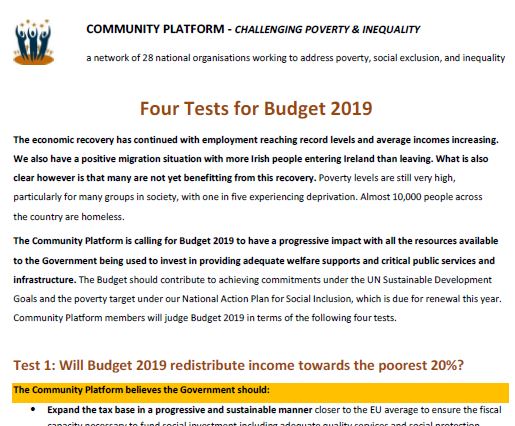 In advance of Budget 2019 the Community Platform has published Four Tests for Budget 2019. These tests are:
Test 1: Will Budget 2019 redistribute income towards the poorest 20% Test 2: Will Budget 2019 strengthen access to quality employment? Test 3: Will Budget 2019 restore and strengthen public services which are of particular importance to people on low income? Test 4: Will the impact of Budget 2019 be assessed to ensure that all provisions reduce poverty and inequality.