A better Ireland is Possible (2009)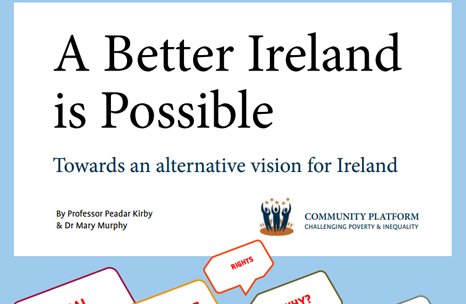 It's aim is to be a resource for Community Platform (CP) members to reflect on and engage critically with the present Irish policy and political environment. The paper is simply a resource to stimulate discussion. It has not been adopted by the Community Platform and is not a Community Platform position paper.
The paper has two core aims: critical engagement with the present Irish models of development; and constructive visioning about alternative models of development. The paper begins, therefore, by critically reflecting on the current Irish model of development, and engages with the key debates about wealth, income distribution, poverty and equality. It then provides the opportunity to reflect, from an equality and poverty perspective, on emerging models of development in the shape of a National Economic and Social Council (NESC) proposal for a Developmental Welfare State (DWS). Finally, it reviews development literature with a view to isolating alternative models of development that offer the capacity to realise equality and antipoverty outcomes.
Share