Publications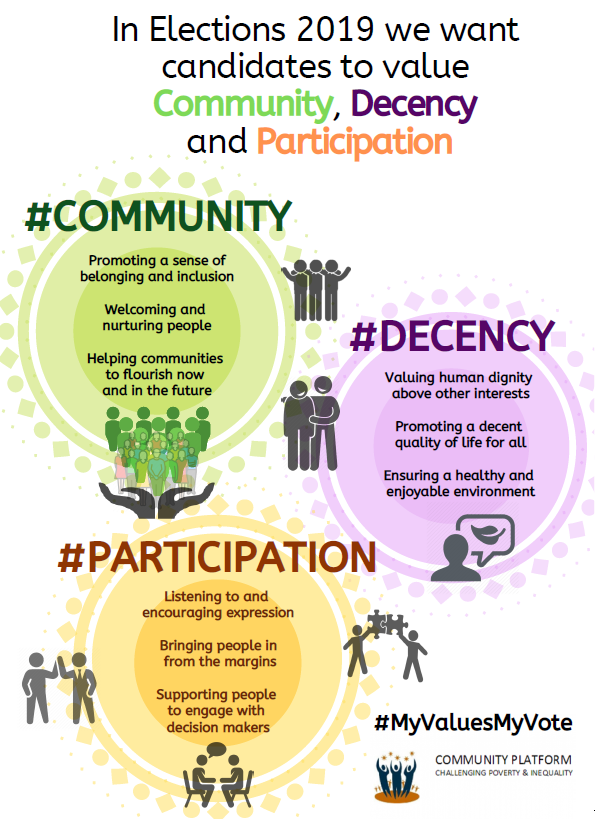 Elections 2019 – Community Platform Manifestos and Values Campaign
In the run-up to the 2019 Local and European Elections in 2019 the Community Platform has develop manifestos, materials and a MyValuesMyVote video to promote and support the delivery of positive social values. These values are Community, Decency and Participation. Electing people who will deliver on these values on the 24th May will help achieve … Continue reading Elections 2019 – Community Platform Manifestos and Values Campaign →
Read More
Share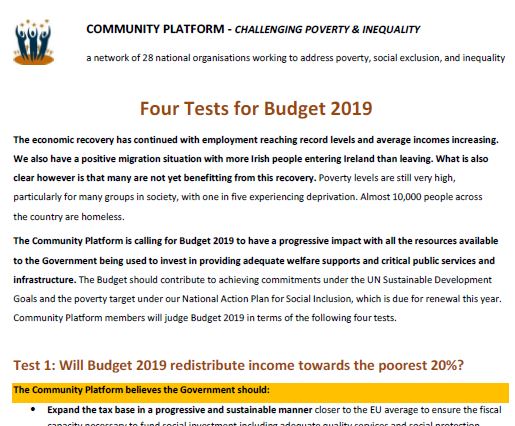 Four Tests for Budget 2019
In advance of Budget 2019 the Community Platform has published Four Tests for Budget 2019. These tests are: Test 1: Will Budget 2019 redistribute income towards the poorest 20% Test 2: Will Budget 2019 strengthen access to quality employment? Test 3: Will Budget 2019 restore and strengthen public services which are of particular importance to people on low … Continue reading Four Tests for Budget 2019
Read More
Download Document
Share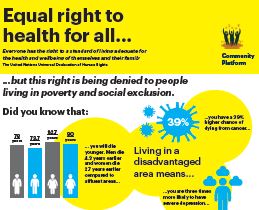 Equal Right to Health for All
On Universal Health Coverage Day on the 12th December the Community Platform has published a leaflet and poster which highlight shocking facts which show that the equal right to health is being denied to those experiencing poverty, social exclusion and inequality and to call on the Government to bring about change.
The final report from the "Health as a Human Right" seminar held jointly by the Community Platform and All Together in Dignity in June 2017 is also available to download.
Read More
Download Document
Share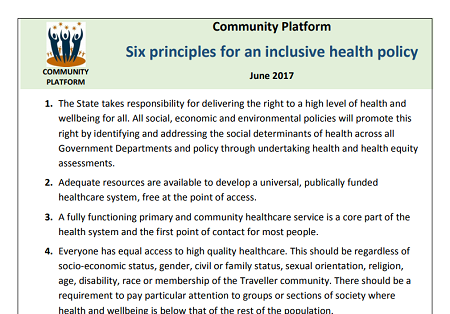 Six Principles for an Inclusive Health Policy
The Community Platform emphasises six essential principles for a fairer and more inclusive health policy.
Read More
Download Document
Share